Luxury Condo Information for Historic Charleston SC
PLEASE VISIT CLASSIC CHARLESTON PROPERTIES website for UPDATED INFO.

SEE ALSO:
http://www.classiccharlestoncondos.com/sc/76_Society.html
http://www.classiccharlestoncondos.com/sc/21_George.html
21 GEORGE STREET &
76 SOCIETY
Across the street from the library of The College of Charleston, this is the perfect luxury address to house mature students who might be spending a few years in the area or for those searching a centrally located second home. There are several three-bedroom condos on the Society Street side (76 Society) with a few two-bedrooms mixed in - no one bedroom on the Society Street side. The George Street side consists of mostly one and two bedroom condos. There is also another subtle difference. The condos on the Society Street side have mostly been finished with antique pine wood floors and lighter colors, while the George Street homes have dark cherry flooring with darker granite and tiles chosen to furnish out with shades of brown. Something for everyone.
for available listings at 21 George Street in downtown historic Charleston.


for 76 Society Street
Check out my new condo website at Classic Charleston Condos.
CLICK HERE FOR MAP
to find 21 GEORGE & OTHERS
21 George is actually 2 buildings combined into one, stretching from George Street to Society Street. There are 13 condos on the Society Street side and 52 in the George Street building. The garage under the buildings is shared by both buildings offering one parking place per home with a few additional places to be used by temporary visitors or maintainance workers. There is no common area or additional storage area provided. Possible future rooftop garden.
So what's to shout about for this condo building? Location, location, location!
For more photos of the outside of the building and more information, 21 George Street Condo.
21 George & 76 Society Street Luxury Condominiums, Charleston, SC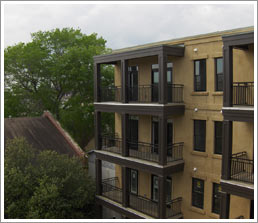 UPSCALE CONSTRUCTION, SOPHISTICATED DESIGN, AND SOUGHT-AFTER DOWNTOWN LIVING
Besides the location in the "heart of Charleston", what do the luxury downtown condominiums 21 George Street and 76 Society Street have in common? Stretching from George to Society, they share not only their underneath gated parking garage (offering 1.5 parking spaces per condo), but also their homeowners' association and acclaimed management company which keep the buildings running efficiently with a sedate, stylish, and well-maintained atmosphere.
High-end finishes including granite or marble to hardwood flooring and elegant kitchen cabinets in most of the condos, lend an air of refinement to an already attractive building. Some 2nd level condos have oversized terraces the entire width of the condos providing up to 900 sq. ft. of outdoor living space that presents views of the city skyline from every angle, while the 3th and 4th floor condos have balconies overlooking the cityscape views of the shopping district and some College of Charleston buildings.
When you hear the words, "location, location, location", this is it, and more. Walk to everything! Situated right in the center of activity one block off King Street, leave that car in the garage while you indulge at your favorite gourmet restaurant or café, or check out the latest in boutique shopping just steps from your front door. Kick up your feet at the end of the day and relax before wandering out to the streets again to attend your nearby fitness center, local spa salon, or enjoy the arts and entertainment that only downtown Charleston can offer.
This is a unique opportunity to live in downtown luxury at affordable pricing
RENTALS 21 George St.
Rentals are quickly snapped up in this building, so check here to see if any are listed, and if not, check some of the other listings in the downtown historic section of Charleston.
MLS rentals for 21 George Street
MLS rentals for all of downtown Charleston
For RENTALS See the rental page on